Healthcare
Revenue Cycle Management and Medical bill collections.
HIPAA Compliant Claims and Healthcare Revenue Cycle Management Services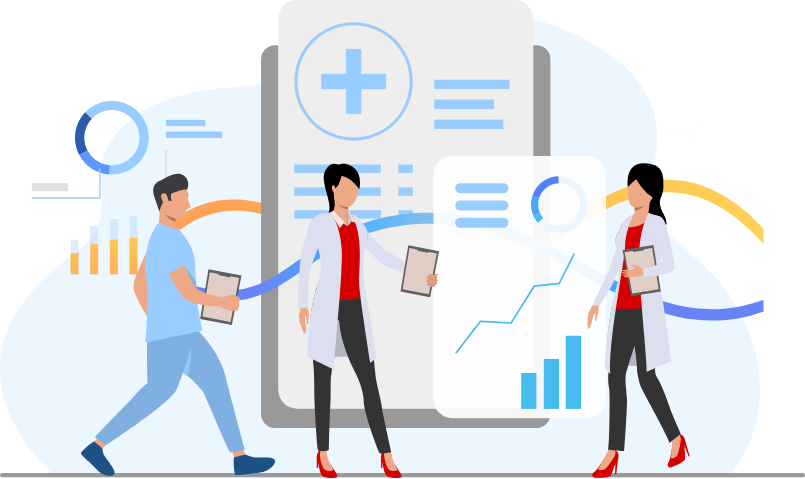 Since 1993, First Credit Services (FCS) has become the most innovative and effective healthcare revenue cycle management agencies in the industry. We utilize state-of-the-art technology like our proprietary OmniXp platform along with our highly trained medical bill collections staff to ensure prompt payment from your patients. Our friendly agents focus on customer service and will maintain the relationships you have worked hard to form. With FCS your organization will realize a lower cost to collect, gain efficiencies in your overall business office operations, and increase bottom line revenue.
About 25% of all bad medical debt can be collected from an insurance company
Extended Business Office (EBO)
Many of our hospital and medical office clients have set up EBOs with us to help with health insurance reimbursement. They found keeping up with the constant changes and follow-up needed to collect posed quite a challenge for their operations. Our agents are experts in recovering insurance balances, resolving denied claims, executing appeals, and claim to rebill. Our EBO solutions have helped our clients free up resources, lower their cost, and recoup more money from insurance claims than ever before.
High deductible plans are growing in popularity, is your AR department ready?
Most healthcare providers continue to see an increase in overall patient bad debt write-offs each year. With more financial responsibility falling to the patient through higher co-pays and deductibles, it is easy to understand why partnering with a sophisticated medical bills collection agency like FCS is more important than ever before.
First Credit Services is a HIPAA compliant, nationally licensed agency that is reimagining Medical bill collections. We've invested millions of dollars in developing a patient-centric Omni-channel platform and machine learning engines that optimize right party contacts. By modernizing our process and combining personal interactions with digital touches, we provide empathetic engagements through multiple mediums. Our strategy of Healthcare revenue cycle management combines a customer service driven approach with a consistent workflow, guaranteed to achieve unparalleled financial results and patient satisfaction in medical bill collections.
"FCS has been our EBO partner for over 5 years. Since working with them, our hospital has realized significant drops in our dispute resolution times and the amount of bad debt we send to collections. They've truly mastered the art of navigating insurance claims and patient reimbursement. We look forward to working with them for many more years."
Director of Billing – East Coast Hospital Network
"First Credit takes over the difficult task of communicating and working with delinquent patients. Their integration with our billing platform has streamlined the entire process taking the stress off our lab managers. FCS enables our operating teams to focus on what's important, providing great service for our patients."
CFO – Clinical Laboratory Company
The latest from First Credit Services
21 June 2023
Our client operates a chain of high-volume health clubs. They saw the amount of time their managers and front desk...
Interested to know more? We can help.